Harvest Moon: Animal Parade Preview
You can now ride a cow in Harvest Moon.
Ever since I first played Harvest Moon: Animal Parade at E3 this past June, I've been dying to get my hands on it again. The game takes the premise of the previous Harvest Moon games, but expands on the features and graphics to make this game not only worthwhile, but better.
The first thing that I noticed while playing the demo was the new animals. In this game, many animals are able to be ridden, not just horses as in the previous entry, Tree of Tranquility. For instance, I rode a cow, and it was downright adorable how my character held her hand up in the air when she rode the cow as if she was in a rodeo. Other animals that can be domesticated include cats, dogs, and snakes, and all domesticated animals can be trained to perform tricks.
The town's population is a conglomerate of old and new characters. The ringleader of the visiting circus is, in fact, the mayor from Magical Melody, which came out on GameCube and Wii. Many of the eligible bachelors and bachelorettes from Tree of Tranquility are the same, but the Harvest God and Goddess are also available to wed.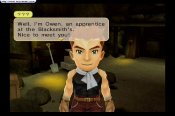 The same applies for the layout of the island. While the style takes on rounder edges and softer colors, the map is generally the same as Tree of Tranquility. The town is improved, as it's larger, has canals running through it, and has new buildings, such as a school and a camera shop. The camera shop is an exciting new place, because you can get a camera there to take pictures of the world around you and with you in it.
Since Harvest Moon games are, at their bases, farming games, there is also improvement in the farming controls. For example, the watering can power-ups match the formation of how seeds are spread (6x1), unlike in Tree of Tranquility. There are also mines where ores and gems can be found and used to upgrade tools and make accessories.
It seems that Marvelous Entertainment really expanded upon the Harvest Moon idea, by adding in new features but retaining its most loved aspects. Animal Parade is currently scheduled to release in November 2009.